If you do not have a merchant account, you have the option to choose Dryfta payment gateway which accepts ticket payments on your behalf and transfer the funds through wire transfer.
To enter your bank information where you wish to receive the payouts, go to Tickets & Fees > Payment Setup and click on Dryfta logo under Credit card payments. Enter your bank information and click save.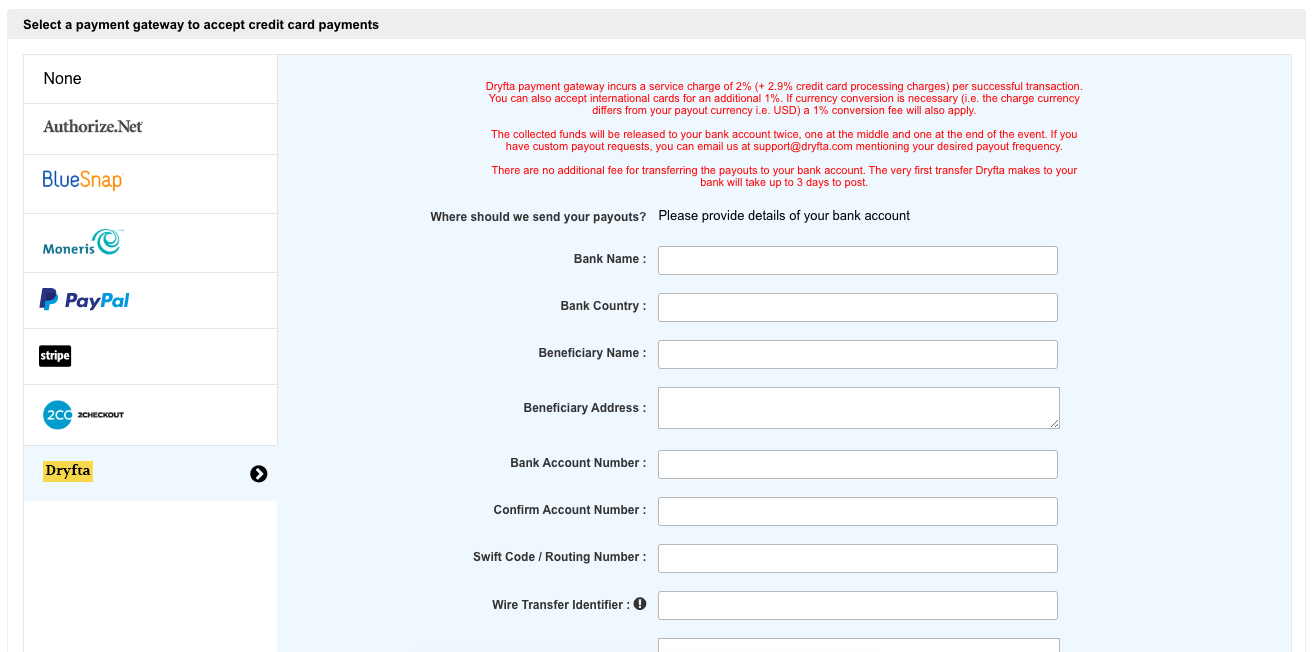 Payout frequency – Payout transfer is currently scheduled to be released twice during the event, one in the middle and one at the end of the event. You'll be notified if a schedule change comes into effect.
Alternatively, you can choose to receive the payout at the end of every month. To set your payout frequency to monthly payouts, please send an email to support@dryfta.com
Transaction fee – There is a fee of 4.9% per transaction (service fee + credit card processing fee) if you use our in-built merchant account.
The system sends an email to the event's main admin on every transaction (successful/failed/cancelled) that is made on your event website and is also recorded under Orders section in your event dashboard.
The transaction details include:
Customer name
unique order ID
Date of transaction
Payment method
Billing address
Transaction amount
Ticket which has been purchased
name of the ticket owner for whom this ticket was purchased
Total tax applied
Payment status (Confirmed/Pending)
You will have this information available in the email sent to you as well as under the Orders tab in event dashboard.